hi! i'm elaine
i make doodly & intuitive art
I'm a self-taught acrylics and marker pen artist putting all my whimsical & innate visions onto canvas.
I'm primarily a doodle and intuitive artist. Often I combine the two, intersecting zen motifs and cute doodles with colourful intuitive healing messages expressed as a kaleidoscope into the inner world.
If you are like me, always trying to find a voice of your own in which you can speak with authenticity, I found my voice through painting.
Come escape into my world of indefinite burrow filled with vivid colors, flowing twirls, endless circles and sometimes, black cats. =)
Workshops
I teach locally in art workshops & collaborations at least once a month. If you're in Klang Valley (Subang Jaya, Malaysia), join me in my studio upstairs at The Hatchery Place and let's create art together!
Commission a painting
Need some colors and original hand-painted art in your life that speaks to your heart? I ship internationally.
schedule a private viewing
If you're interested to view available works in my studio and check out what I'm currently working on behind the scenes, let's make an appointment! I can give you a studio tour at my creative space The Hatchery Place and you'll get to view some of my private collections:)
STAY WITH AN ARTIST
I also co-founded and run a conscious creative coliving+coworking & workshop space The Hatchery Place in Subang Jaya, Malaysia. If you're interested to be part of us, check out our website to know more.
Shop my work
Visit my online store to purchase my whimsical collections today!
THAT BLACK CAT COLlection
Every piece of my art is eccentrically intense, intimate, reflective and embodies my passionate spirit.
Some of my artwork has a subtle priming effect which may stimulate the unconscious mind with its constant presence.
They become a space that holds the intentions and wishes when I paint, which then radiates out to the beholder. Well, these works are not for everyone!
I paint what I feel.
When elated, the colors I chose would represent what my heart & soul were radiating at that moment. When feeling down, my hand becomes the channel of healing messages that flow through the paintbrush to soothe my soul.
I am usually at my most joyous, if not meditative state when I create.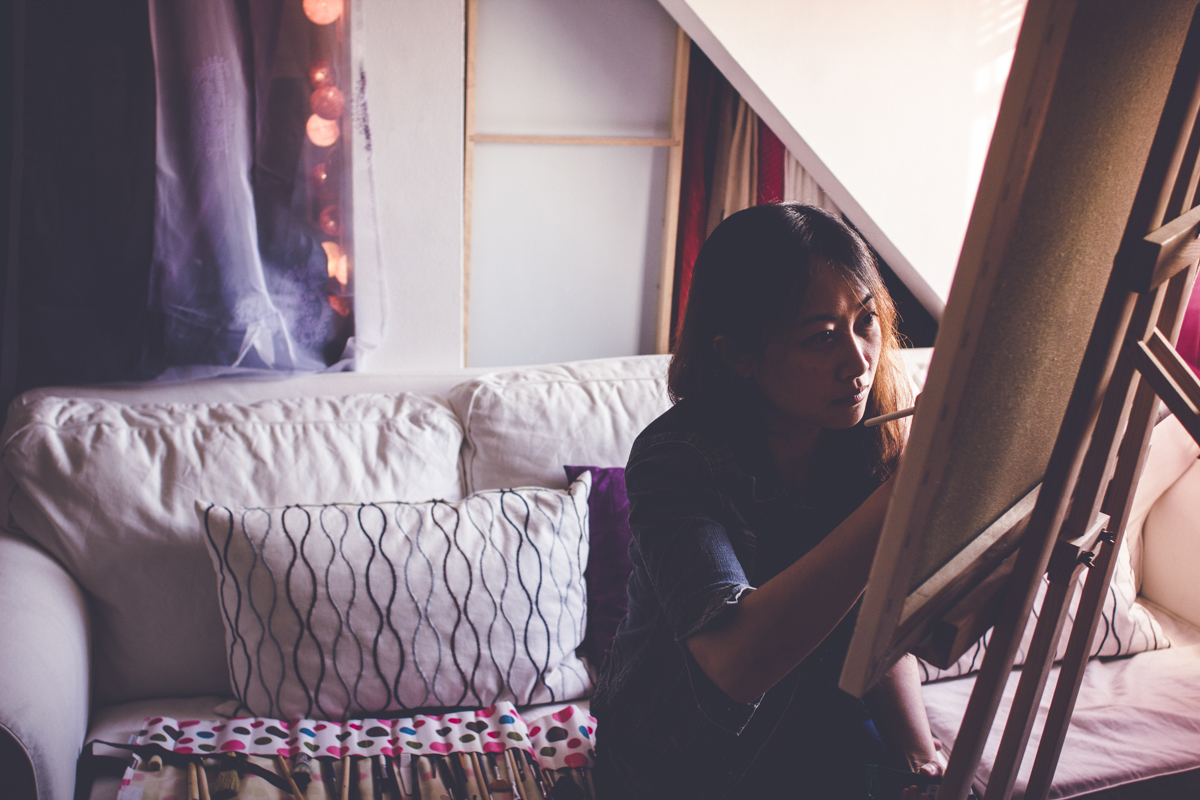 WHAT OTHERS ARE SAYING
My utmost gratitude to the kind words received from friends, clients, student & strangers who show appreciation for my works.
"Elaine Wong is not just an amazing heart centered creative artist, but also a kind and generous person who uses her labor of love for grander causes. I was deeply moved by Elaine's generous contribution of her absolutely amazing original painting to raise funds for a documentary Gods in Shackles that exposes the atrocities against Asian elephants and their barbaric torture and exploitation for profit in the name of culture and religion. Elaine unconditionally donated her divine creation for a worthy cause. This is indeed what sets apart Elaine ... she uses her awesome creative energy for the greater good. I'm deeply grateful for your support and absolutely admire your creative talents, and skills. I also appreciate your commitment to delivering on your promises."
- Sangita Iyer (B.Sc. M.A. EEC, PGD Journalism)
Director/ Producer Gods in Shackles Movie
Founder & President Voice for Asian Elephants Society
Hon. Animal Welfare Officer (Animal Welfare Board of India) Toronto, Canada
"Elaine's works and actually her whole approach to art are absolutely incredible. I'm just inspired!"
-Ada Bednarczyk , POLAND
Elaine is an intuitive artist who paints from her inner guidance. She is sensitive to the messages from the universe and recreates images that comes into her awareness into meaningful compositions that are meant to remind you of your soul inclination.
Allow her to surprise and delight you with her art!
- Chin Pheng Scarlett, Singapore
"Your paintings have changed the way I see the world, everything is now filled with more color! Thank you."
- Brainard Carey, New York City, USA
"Elaine, thank you for yesterday. You were the perfect teacher. In fact, I think you don't realize how good you are. You created the right atmosphere and gave me confidence. You corrected my techniques but you were nice enough to let me do my own work as you understand the artistic pride that comes with it. Thank you again and look forward for more mentoring from you. You really are a good teacher. If I can put it in shortly, you didn't treat me like a newbie. You treated me like an artist and that gave me so much of confidence .You show a lot of respect for their own intuition and work."
- Kamala Velautham, Malaysia
"Elaine effortlessly combines her sophistication as a pro with the innocence of youth."
-Jon Barbieri (@RheyneMusic), New Jersey, USA
"Elaine's art is amazing!!! I love how colorful and unique it is!"
-Paula Barreneche, Argentina